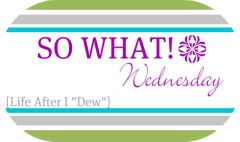 So what... if in order to spell Wednesday correctly, I mouth WED-NES-DAY.
So what... if I am falling for someone I have not seen in a very long time who lives very far away.
So what... if I am all hot and bothered by an argument on Facebook between Science and The Bible or Aethiests and Christians.
So what... if a co-worker buying me a Dr. Pepper makes my day 10x better.
So what... if I don't understand all this 'honey badger' talk. Seriously, I don't get it.
So what... if I took a whole bag of cinnamon swirl bagels from our break room. What? My co-worker said he put them in there for whoever wants them. They are my favorite. First come first serve, right?
So what... I spent almost the entire day yesterday talking to my man friend via FB Chat instead of doing real work....and then was annoyed when someone asked me for something. Ha.
So what... if I am not a fan of Miranda Lambert's new CD. Baggage Claim and Easy Living are my only favorites.


So what... if I have spent my nights browsing Pinterest instead of doing something more productive?
So what... if all I am looking forward to today is the CMA's with my two friends Ben&Jerry tonight.