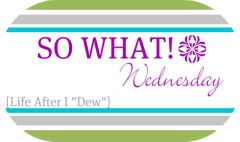 SO WHAT if I had no desire to blog today. But then was reminded it's Wednesday and there are a few linkups to choose from. This one has become my favorite.
SO WHAT if I have become slightly 'addicted' to my white noise app. I told myself I wouldn't but I have used it almost every night since.
SO WHAT if I give JAX things to play with that I know he will destroy in a matter of minutes. It's pure entertainment for me and it keeps him occupied.
SO WHAT if I am not seeing a midnight showing of Breaking Dawn Pt 1 (I have gone to midnight showings for all the Twilight movies thus far). My sleep is precious to me (aka I am old) and honestly, I am not THAT excited for it. The books are always 10x better than the actual movie.
SO WHAT if the Holidays sometimes make me sad. Being single isn't always rainbows and butterflies.
SO WHAT if I am beginning to think I am crazy for signing up for a half marathon.