Oh Monday. Will we ever get along?
Hope y'all had a wonderful weekend and Thanksgiving!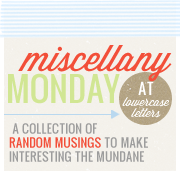 *Dinner with a friend, my sister, and her boyfriend.
*There was also a celebrity spotting! Edward Cullen, Jacob, and a headless Bella.
Warning: Image may be too graphic for some...
*Traditional Turkey Trot 5k Thanksgiving morning with a Cracker Barrel breakfast after.
*Rivalry Saturday! Dad's famous hot wings, beer, family.
But...the Buckeyes lost. I don't wanna talk about it.
*I'm going to be in and out of the ol blog this week. Mentally preparing myself for my half marathon this Saturday. Had a bad run last night and am trying my hardest to not get discouraged!