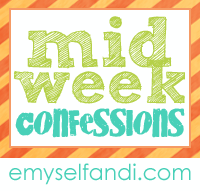 Hold on to your butts!
-Last night I finally broke down and did my laundry...only because I ran out of undies.
-I almost called out of work yesterday because I just wanted to spend my entire day in bed.
-I can't help but wish it was April.
-I let Jax drink out of the toilet bowl.
(OMG. Last Fall I took Jax with me to look at an apt and meet my potential roommates dog. Well he wandered off while her and I were talking and what do ya know... I found him... in her bathroom... drinking from her toilet. Embarassing. Luckily, she laughed and said her dog does that too. Phew!)
-I despise dressing up for work.
-I've been so excited to run only because I love my new shoes. Hey...whatever gets me motivated! I ran 3.1 miles in record time last night. Bam!
-I hate working out my arms because the pain the next day is the worst.
-If I could get away with wearing sweat pants, sweat shirts and slippers everyday... I totally would.
-I played hide and seek with Jax last night... and loved scaring him. And then I clipped a clothespin to his skin and laughed my butt off while he freaked and tried to get it off. I love him, I promise.
What do YOU confess today??